From this week we will be comparing life in 6 major cities around the world: Shanghai, Chengdu, Singapore, London, Tokyo, New York. This week we will look at rent prices.
Shanghai – real estate is one of the costly things. In recent two – three years people with middle income must contribute one third of their income to rent.Most international and big local companies are in the city centres or the financial centres of Shanghai, like Jingan Temple, Lujiazui. We will treat these criteria as our golden ratio. Since Shanghai is the most International city in China and attracts big multinational companies around the world, it is naturally one of the costliest city.The average wage would be around 10,000 to 15,000 CNY (depending on the position). The central area rent depending on factors like, transportation; location; the building (with or without lift); type of the apartment; which side windows' face; and the compound itself also plays big role on how much you will be paying. Shanghai's rent prices always increase after the new year, yearly increase of accommodation is very normal. This year a studio apartment 30㎡ in central Jingan will cost you around 7,000 CNY, it most likely is older residential area. But further from central Shanghai cheaper the cost of rent prices.
Chengdu – it is the capital city of Sichuan province also known as city of pandas. It is the new tier 1 city in China. Chengdu is considered a "Beta + (global second-tier)" city classification (together with Barcelona and Washington, D.C.) according to the Globalization and World Cities Research Network. In 2021, Chengdu ranked 35th in the Global Financial Centres Index. In Chengdu mid-high salary approx. 7,000 CNY to 7,500 CNY. The central area of Chengdu includes: Jinjiang district; Qing Yang district; Jin Niu district; Wuhou district. To rent around Jinjiang, 40㎡ studio apartment will be  2,500 CNY.
Singapore – it is without a doubt one of the main financially developed cities in Asia, which means it is also one of the cities that makes to the list of costliest cities in the world. Average salary in Singapore is between 3,500 SGD and 4,100 SGD. Above average salary is around 4,500 to 8,000 SGD.The city's business centre is Marina Bay, Chinatown, Singapore River areas and city centres are Orchard Road, Tanjong, Holland Road, Tanglin. In Orchard, River Valley rent of decent 33㎡ studio apartment will cost you 3,000 SGD.
London – by the global metrics there are only 2 cities considered Alpha ++ which are London and New York, for these are "most integrated with global economy". A lot of professionals do their best to be working in cities like London and New York. In London the average salary is around 40,000 GBP per year before tax, which will be 2,570 GBP per month after tax.  Residential central areas are Richmond, Noting hill, Kensington And Chelsea. Studio apartments around these areas will cost you from 950 to 1,500 GBP. Younger people do not rent studio apartments but will rent in the central area shared apartments which is 450 GBP up to 800 GBP.
Tokyo – another city that attracts a lot of people around the world with its culture, fast-growing technology and economy. This year the average monthly income in Tokyo is around 350,000 to 410,000 JPY depending on a lot of factors from the field of the company to its size etc. The central Tokyo: Ebisu, Shinjuku, Azabu are some of the central and more residential areas. And if we look for business centre in Tokyo, they are Nihonbashi, Roppongi, Shibuya etc., finding a studio apartment to rent in Tokyo is pretty easy. The studio apartment in Tokyo Shibuya Ku – Ebisu or Hiroo area, 35 or 40㎡ the cost is around 130,000 to 180,000 JPY depending on the building's location and condition.
New York – to pursue any professional's dreams, it has ultimate opportunities for everyone, and it is one the most diverse city in the world. The income in New York is from 5,300 to 6,500 USD, there isn't an average we can point at, but if we generalise it is 5,500 USD. Upper West and Upper East side makes the New York's central area, in Manhattan. City's business centre also in Manhattan which is why that area is the busiest and the costliest. Living in a studio apartment in Manhattan River East for example is going to cost around 3,000 – 3,500 USD for 50㎡ in Wall Street.
Conclusion, In the end of the day if your income is in range of average it is not the perfect fit to be renting a studio apartment in big city center, as the ones mentioned above. Most young people will rent downtown rooms in a shared apartment or give up the benefits of living in the center for living comfortably alone without any conditions and terms.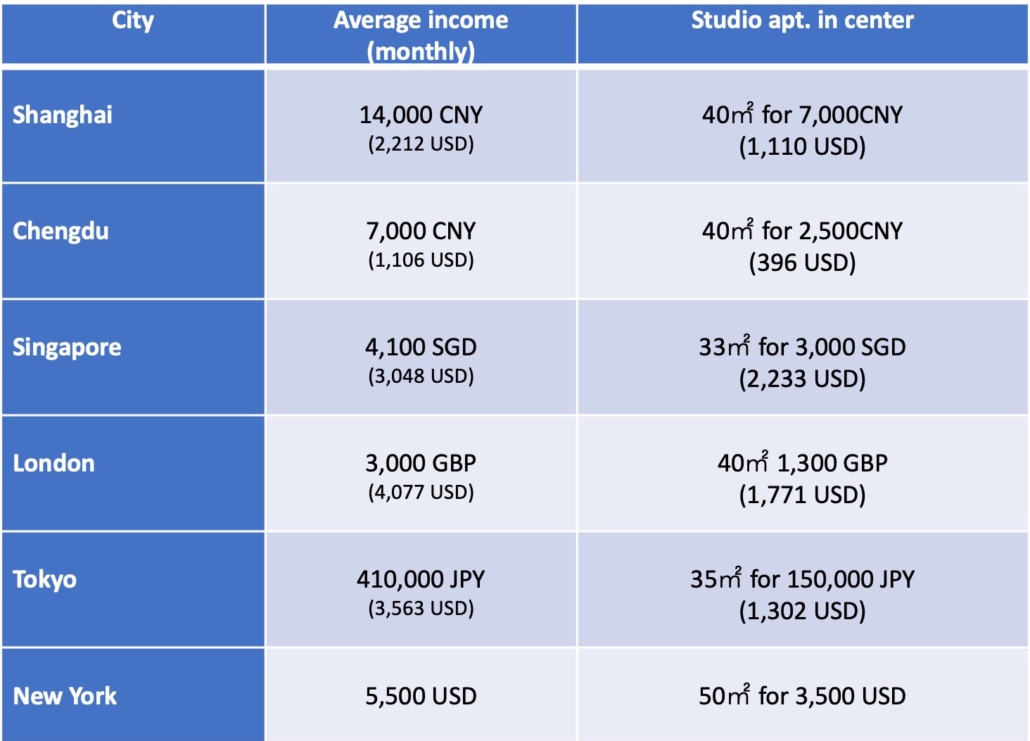 Income information by: Statista.com, 2020 report
Rent information by: China: Ziroom/ Singapore: propertyguru.com.sg/ London: rightmove.co.uk/ Tokyo: realestate.co.jp/ New York: apartmentlist.com
https://www.linkcompliance.com/wp-content/uploads/2022/02/renting-moving-.jpeg
1500
2250
Jennet Yego
/wp-content/uploads/2021/03/Logo-Full.png
Jennet Yego
2022-02-25 12:42:08
2022-02-25 12:42:09
Big Cities High Rent Prices. First Ep.